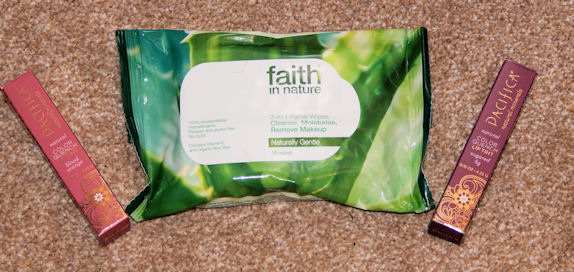 A couple of weeks ago I got a wonderful opportunity to review some make-up products from Natural Collection. I waited in to get my package as I knew it was gonna come at some point and when I finally got the package I was SO excited. I opened up the envelope to find some make-up wipes and 2 lip tints. I got really anxious to try them as they looked so good, I wanted to do my make-up right then and there and then take it off again (because of the wipes). I love trying new things especially when it comes to make-up and skincare because I like to see what fits me and my skin best. I have left it longer than I usually would to post about these because I wanted to try them properly. So here goes.
Faith in Nature 3-in-1 Facial Wipes
Ingredients:
Aqua, Glycerin*, Aloe barbadensis leaf juice**, Olea europaea fruit oil**, Tocopherol*, Coco glucoside*, Citrus aurantifoliaoil*, Citrus limon peel oil*, Sodium citrate, Gluconolactone*, Sodium benzoate, Calcium gluconate, Benzyl alcohol, Dehydroacetic acid, Limonene***, Citral***.
*-Vegetable origin
**-certified organic
***-from essential oils
These wipes come in a green packet which is what I associate with nature. There is something more special about these wipes which I absolutely LOVE and that is that they have a specially forumulated pH balanced blend of essential oils to ensure effective cleansing without the use of synthetic chemicals and the are 100% biodegradable which means that they are good for the environment as well as our skin. They are also 100% paraben, SLS and alcohol free and have NOT been tested on animals (which of course I am happy about because I love animals).
It says on the packet that they are naturally gentle which I can vouch for because they are really gentle. It also says effective cleansing without synthetic chemicals while moisturizing, refreshing and toning skin. The wipes are naturally pure for you, they have a pleasant natural aroma, no greasy residue and are a handy purse size.
Faith in Nature is a United Kingdom based brand which means they are cutting down on carbon footprint as they do not import products from other countries.
When I first saw these wipes I was a little apprehensive about using them as I used to use Johnsons baby wipes on my skin and they sting my skin really bad. So now I just tend to wash my face with a face wash and flannel over the sink as it feels so much nicer. BUT since I recieved the Faith in Nature wipes I use these wipes all the time. The only downside is that you only get 25 wipes in a packet and I must only have about 5 left. They are really gentle and soft on my skin, I have not had one problem with them stinging my face, it moisturizes my skin and cleanses my face and I don't walk out of my bedroom looking like a tomato which is always a plus. I take the wipes everywhere I go as they fit in my smallest handbag and instead of using 2 or 3 wiping my makeup off I only need to use 1 to get all the makeup off my face and I usually struggle to get mascara off and it comes off really quickly without all the scrubbing. Wipes do not usually have a smell (well the ones I have used) but these ones have a really nice citrus fruit smell which I love and once I have wiped my face I feel so refreshed and clean, when usually I just feel sore not very clean at all as I usually manage to leave makeup on my face. They are really fantastic and I will be purchasing these myself as these are the only wipes I have ever tried to not irritate my skin in some way or another. They are really quite cheap too and I will definetely reccomend these to others because these are AMAZING.
You can purchase these wipes on Natural Collections Website for the small price of just £3.30.
Pacifia Lip Tints
I have only ever tried one lip tint before and that was from Primark it was in my November Favourites. So go and check that if you would like to have a look. Back to the Lip tints, When I took them out of the brown envelope, At first I was a little confused what they were but soon after I read the packet I realized they were Lip tints. They come in a pretty patterned box which really lovely writing which very clearly says Pacifica, It is really pretty girly packaging which I loved because I am very girly.
It says on the packaging All natural coconut oil, big hydration (which I agree), sheer mineral color, 100% Vegan. formulated without parabens. 'Kissable Hydrated lips with sheer, natural colour.
I received 2 different Lip tints one is Blood Orange, I will start by saying the smell is absolutely incredible, I love the smell and you may have caught me just smelling it for a while rather than putting it on my lips. The other lip tint is sugared fig, this one smells really nice. The only problem I have having with them is that when I roll it up it will not come down but I don't know If I created this problem from using them so much. Both Lip tints are so easy to put on and its not too subtle but not too bold either. One thing I did notice was that my lips were extremely soft after applying, they didn't even feel like my own lips. The colours are fantastic and definitely go with my skin, I have been alternating between the both of them. I also pop these in my bag when I'm off to college as I think they really brighten up your face. I would 100% recommend these to friends and family and to you! They are incredible and you'll be really surprised how nice your lips feel after using them. I am definitely going to invest in the other colours too.
You can purchase the lip tints also on the Natural Collection Website for £7.49 each.
I hope you enjoyed reading my review.
-WithLoveTiff
♥