I was very kindly asked if I would like to try some products by Technic, I would have been a fool to turn down makeup so I obviously said yes.  Makeup is essential to girls, this is the key component of making a girl feel confident, well that doesn't apply to everyone but it does to me. I received various products from Technic and they were all everyday essentials and I now use them everyday. I remember when I was younger I used to save up money for little items of makeup and I am pretty sure I've had Technic products then and I liked them so I was really excited to receive these products.
About Technic:
For the hottest look of the season, it's got to be Technic make up collection.

Bang up to date with the very latest fashion-inspired colours and styles, Technic is the name that keeps you in vogue with a WOW factor right off the scale.

Choose from irresistible tones, effects and finishes in all your favourite essentials, as well as a few special products you might not know – from bronzing mousses and nail treatment sets right through to foundation sprays, mascaras, blemish correctors, lip shimmers and tea tree concealers. Ultra-stylish compacts, brush sets and toiletry bags even keep you looking gorgeous on the go.
♥ Technic Nudes Eye Shadow Palette
About The Product:
Contains 6 nude eyeshadows to create a natural look.
My Review:
I was really excited when I opened the box and saw this palette as it was like they knew what I wear nude eye shadows all the time and it felt like they had actually taken the time to look through my blog they completely aced picking products for me! They were products that I would have picked out for myself which is amazing!
The packaging to the Eye shadow palette is very compact, smart and sleek which I really like. I love the packaging because I can see the eye shadow which is because of the translucent top, this would attract me in shops because I am often too lazy to look inside of palettes (I am a very lazy person). The palette itself comes with an applicator that you use to put your eye shadow on, which is very handy as I often lose mine or I misplace my brushes (I am a very unorganized person). The palette is also easy to open which means that I do not sit around for about 10 minutes trying to open a palette (which often happens, who knows why).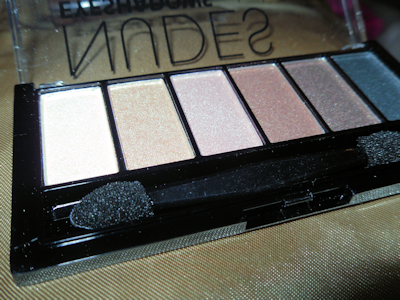 The palette has 6 nude eye shadows and an applicator. The eye shadows themselves are gorgeous, these are my everyday colours. I was so shocked that for a little price of £1.49 it does everything I want it to do and definitely does not seem like a cheap palette. The eye shadows are very well pigmented which I love because I hate a dull eye shadows that comes off during the day which takes me onto my next point of the eye shadows not needing to be re-applied during the day, especially when I am going out I need an eye shadow that will stay in place and this certainly does. They also blend together really well and I have tried all the different shades and even did a darker eye which I do not usually do.  These colours are amazing and I could do a natural day look or even a dramatic night look with this palette as it is so versatile which I love! I am really impressed with this palette and it is one of the best palettes I have used to this date. I haven't ever used a Technic palette before but I will definitely be keeping an eye out for the other palettes in their range and will definitely be buying some more. This is now in my essentials case and I use it most days.
Where can I get this product?:
www.lovethymakeup.com
How much is this product?:
£1.49
Rating:
10/10
♥ Technic Lash Goddess
My Review:
Unfortunately I couldn't find a link to this product after searching high and low but nevertheless I was so excited when I saw this mascara, every girl needs a good mascara, Now I am not too keen on mascara's that clump your eyelashes together and I like one that only needs a couple of coats to look good and this is exactly what this gives you. You do not need too much and a couple of coats do it for you.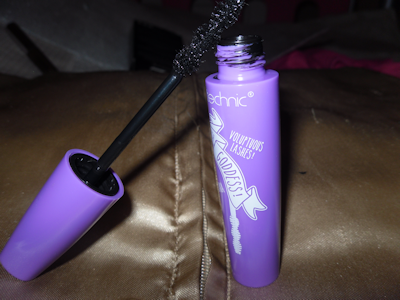 This mascara is perfect for travel and it is purple, what more could a girl want? The wording also stands out as its in white so you would know exactly what you are looking for. The wand is curved and shaped which looks like with 3 balls (I cant think of any better wording – sorry) and its also has spars fibers on the brush. I find that this mascara has just the right amount of product on it which I love and it does not clump your eyelashes together so you do not end up with spider lashes.  Which spider lashes is something that I do not like sometimes. The mascara isn't too drastic so if you are more of a neutral person this mascara is definitely for you. It does give your eyelashes volume but you need to put a fair few coats on your eyelashes to fully get that from the product it also doesn't have a strong smell which is good because no one wants to be putting a smelly mascara near their eye's right? Overall I liked this product as I am more of a natural girl when it comes to make up, don't get me wrong we all like dramatic sometimes but for a day to day neutral look this mascara is perfect!
Where can I get this product?:
It is currently not up on the lovethymakeup website but I shall update you.
How much is this product?:
N/A
Rating:
8.5/10
♥ Technic Brow Gel
About The Product:
Tinted, wash-off eyebrow gel with mini brush for easy and precise application. Available in 3 natural colours.
My Review:
Eyebrows are a very important thing when coming to make-up, they always need taming and they always need to look just right. I usually use powder when it comes to doing my eyebrows so when I saw that this was inside the package I received I was really happy.  Finally I can tame my eyebrows just that little bit more. I was sent it in Dark but there are 3 different colours to choose from, light medium and dark. Once again it was like this company took the time to look through my blog to see what colour eyebrows I had. I am actually in love with this brow gel and I use it now on a daily basis and it has a well deserved spot in my day to day makeup case. I like that it comes in a tube with a wand (similar to mascara) because it makes it convenient for travel and I know it will not leak anywhere. The wand is really good for a precise application and it holds just enough product. One thing I will say is that you have to master trying to do with without it blobbing everywhere but it doesn't take long to get used to.  It matches straight up to my eyebrow and it is well pigmented which a brow gel should be. It doesn't smudge which is a huge plus because most of the time if I am using powder or a pencil I realise that half way through the day I have rubbed my eye and smudge the whole of my eyebrow. (Not a classy look). It is such an easy thing to work with and it has an element of keeping your eyebrows in place without making them hard and look disgusting. I would 100% recommend this brow gel for anyone who wants to keep their eyebrows in place and want to fill them in. For £1.99 this is a bargain.
Where can I get this product?:
www.lovethymakeup.com
How much is this product?:
£1.99
Rating:
9/10
♥ Technic Lipstick – Bahamas
About The Product:
A beauty must have for any woman. This lipstick glides on smoothly to give elegant looking lips. Vitamin E acts as an effective moisturising agent, improves the elasticity and smoothness of the skin. It also acts as an antioxidant preventing skin damage by free radicals.

My Review:
Technic has a whole load of different shades of lipstick and luckily I received a lipstick in which I would wear all the time on a day to day basis. The lipstick I received is called Bahamas and is a nice pink colour. This lipstick again has made it into my day to day basics makeup case. The packaging is standard but smart too, it is a black and almost matte, with silver detailing and wording (Technic) and has the lipstick colour on the top. One thing that I was really surprised with was that the colour on top of the lipstick is in fact a little pot of it, which is amazing, I never knew lipsticks did that and since ive found out that nearly 80% of my lipsticks have the pot. The colour at the top of the lipstick is actually really handy because I don't have to keep looking for the lipstick because I see the colour on the top and pick it out straight away.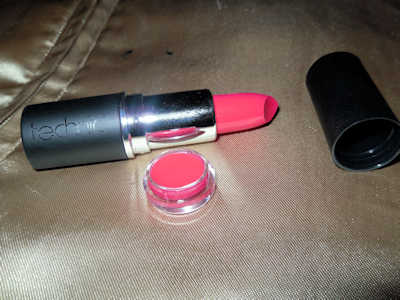 The lipstick itself is more a raspberry colour but maybe a little lighter.  It applies really well and didn't smudge when I wore it and it actually lasts quite a long while, obviously when wearing lipstick we do have to keep applying it but this lipstick did not seem to have that problem I think I only re-applied it once in the day and it just stayed put for the rest of the time. The colour I feel suits my face and it is very moisturising which is good because I have dry lips 99% of the time which makes it hard for me to wear lipstick. One thing that I love about this lipstick is the fact it has Vitamin E in too.  I am really happy with this lipstick, it does everything I want it to, I can wear it on a day to day basis or even for a night out, it suits me and it stays put, what more could a girl want with a lipstick? I will definitely be repurchasing and recommending this to others and looking out for other colours too.
Where can I get this product?:
This exact one is not currently on the website but you can have a look at their other ones here: www.lovethymakeup.com
How much is this product?:
£1.99
Rating:
8.5/10
♥ – Technic Tip Top Nail Tips and Nail Glue
About The Products:
For TIP TOP nails, try our instant brush on nail glue for quick and easy false nail application
My Review:
So I thought I would combine the nails and nail glue together as they do go together really (did that even make sense?) anyway I was sent some beautiful neon pink false nails. Now me and false nails have a very love/hate relationship, I have them on for a couple of days and then you will see me taking them off cause I get annoyed with them. Just recently I have been trying to be really good with not taking them off especially when getting my nails professionally done (I take them off too).
These nails are very bright but still I used them as a day to day daily thing not just for an occasion. These nails actually cost £2.99 and you get some nail glue and an emery board too, although I did not use the glue supplied. I found that the glue I used was really good. It was quick and easy to use and dried quickly which is good because I didn't have to sit there holding the nail on for ages. I always seem to get nail glue everywhere, I have ruined sofa's and I have ruined clothes. So I gave up with putting on fake nails for a while. The glue I was given to use was actually perfect, I did not get it anywhere and I love the fact it is like a nail polish brush it is really good for applying and getting just enough glue to put on your nail. The glue also does not have a strong smell which I like because I HATE the smell of nail glue. These nails I feel suited me and my personality and they lasted 1 or 2 weeks on with only a couple coming off which is fantastic for false nails. Having this experience I will definitely be buying more in different colours as I know I can trust this brand now. I would recommend these to anyone trying to grow their nails because it helps and to anyone who wants fancy nails for a special occasion.
Where can I get this product?:
Nail Glue: www.lovethymakeup.com
Unfortunately I cannot find the nails on the website
How much is this product?:
Nail Glue: £1.99
Rating:
9/10 for both!
A makeup look using all of the products mentioned above.
Hope you enjoyed reading! let me know if you have used any of these products yourself down below.