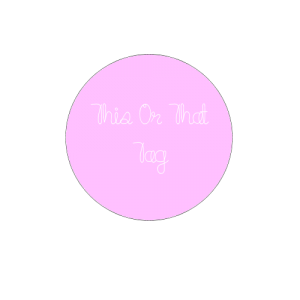 Today I am going to be doing a new tag that I found called 'This or That' Tag. Here are the questions.
Makeup:
blush or bronzer – Bronzer.
lip gloss or lipstick – Lipstick.
eye liner or mascara – Mascara.
foundation or concealer – Foundation.
neutral or color eye shadow – Neutral.
pressed or loose eye shadows – Pressed.
brushes or sponges – Brushes.
Nails:
OPI or china glaze – OPI.
Long or short – Long.
Acrylic or natural – Acrylic.
Brights or darks – Bright.
Flower or no flower – No flower.
Body:
perfume or body splash – Perfume.
lotion or body butter – Body Butter.
body wash or soap – Body Wash.
lush or other bath company – Lush.
Fashion:
jeans or sweat pants – Jeans.
long sleeve or short – Long.
dresses or skirts – Dresses.
stripes or plaid – Stripes.
flip flops or sandals – Sandals.
scarves or hats – Scarves.
studs or dangly earrings – Studs.
necklaces or bracelets – Bracelets.
heels or flats – Flats.
cowboy boots or riding boots – Cow Boy.
jacket or hoodie – Jacket.
forever 21 or charlotte russe – Only ever heard of Forever 21.
abercombie or Hollister – Hollister.
saks 5th or nordstrom – Pardon?.
Hair:
curly or straight – Straight.
bun or ponytail – Bun.
bobby pins or butterfly clips – Butterfly Clips.
hair spray or gel – Hair Spray.
long or short – Long.
light or dark – Dark.
side sweep bangs or full bangs – Side Sweep Bangs.
up or down – Down.
Random:
Rain or shine – Shine (Sometimes Rain).
Summer or winter – Summer.
Fall or spring – Spring.
Chocolate or vanilla – Chocolate.
East coast or west coast – East.
I hope you have enjoyed reading this.
What would you choose?