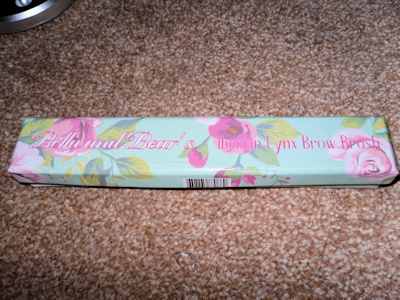 Everyone now a days are obsessed with eyebrows. It is all about the eyebrows and perfecting them, grooming them and making them look square or rounded. Drawing them on. Who knows but us girls know it. Eyebrows have become a huge trend here in the UK. So I was asked if I wanted to review an Eyebrow Brush.
About the product:
BELLA & BEAR'S EYEROW BRUSH- A professional quality angled brow brush great for defining and adding shape to your eyebrows, as seen in Elle magazine. Everyday Savings with Bella & Bear, simply buy 2 or more items and you start saving. 2 items saves you 10% 3 saves you 15% 4 saves you 20% and purchase any five items and you save 25%. Just use code BREWARDS

THIS SPOOLIE BRUSH- will be your new favorite tool for enhancing your eyebrows and eyelashes. It is a handy eyebrow makeup brush you can take anywhere.

LIKE ALL BELLA & BEAR PRODUCTS- your brow brush comes with a full money back guarantee, we use it too and we know that sometimes things just go wrong so simply contact us anytime and we will be happy to help you

THE "IBERIAN LYNX" SPOOLIE brow brush duo is a great addition to our "Kitten" Makeup Brushes.

GIFTS FOR HER. All our products make for unique gifts for women. Surprise your mom or girlfriend with our unique makeup brushes or take a look at our other items, which all make great Birthday and Christmas Gifts
My Review: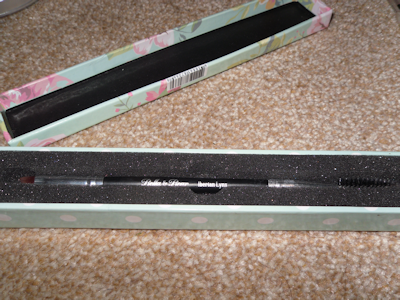 I am a fan of all of Bella and Bear's brushes and this brush suits me to a T. I can brush my eyebrows so I can groom them and then use the brush to fill them in and highlight my eyesbrows. It is so handy and it literally perfects your eyebrows and it gets rid of those sparse eyebrows or gaps that you need to fill in. I like this brush more than most because it is like a 2 in one brush you can use it for two things.  This defines your eyebrows and creates shape and definition. It comes in a beautiful vintage box again as do most of Bella and Bear Products. It is also in the Kitten Eye Brushes Kit. But this gives me my perfect eyebrows every single time. It is just like a professional brush. I absolutely love this product and I would recommend it to those who have problems with their sparse eyebrows or just have probems with sorting their eyebrows out in general. This brow brush is amazing and it comes in my bag wherever I go just incase I need to tame my eyebrows when Im out. Well deserved space in my handbag.
Where can I buy this?
Amazon.co.uk
How Much?
£7.50
Rating:
9.5/10