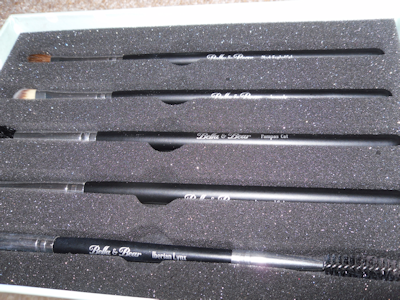 Every girl loves eye brushes, we use eye brushes to perfect our eye shadows and to blend and to make us look glam. We need eye brushes in our makeup collection right? That's exactly why I agreed to review Bella and Bears 5pc Eyebrush Set.
          About this product:
YOUR EYE MAKEUP BRUSH SET – includes 5 high quality natural goat hair and synthetic fibre eyeshadow brushes. Includes a double ended eyebrow brush, a soft blending brush, a pencil brush, a medium angled shading brush and a shading brush, as seen in Elle magazine. Everyday Savings with Bella & Bear, simply buy 2 or more items and you start saving. 2 items saves you 10% 3 saves you 15% 4 saves you 20% and purchase any five items and you save 25%. Just use code BREWARDS
CREATE PERFECT EYE MAKEUP – its so much easier with quality eye brushes that pick up product correctly and allow you to apply your makeup precisely and quickly.
EYESHADOW BRUSH SETS – are not all alike. We make sure that our products are quality tested and proven to work, we also use and stand behind everything we do and we offer a 100% MONEY BACK GUARANTEE on all our products including our Eye Shadow Brushes
YOUR EYE BRUSH SET – is small enough to travel with you but contains every brush you will ever need to create stunning flawless eyes
INCLUDES AN EYEBROW BRUSH-there is no point having beautiful eyes if you forget about your eyebrows so we have included our duo eyebrow brush to take care of this for you
My Review:
Bella and Bear "Cats Eyes" Eye Brush set includes:
*Iromote-  A shading brush to cover the whole lid for quick and even coverage.
*Pampas cat- A  blending brush for creating a diffused and blended finish.
*Black Footed Cat- For a soft precise application of colour and also for brow highlighting and blending.
*Leopard Cat- A soft pencil brush for applying concentrated colour application and to soften and smoke out lines.
*Iberian Lynx-  to shape and define brows and for grooming eyebrows and lashes.
I love this whole set. Infact it all ties in fairly nicely together. I have been using them for a good month or two now and I absolutely love them they are so easy to work with, they are not roug so they do not scratch the skin or irriate a couple of them have a rougher feeling than the others but it doesn't cause irriation. The brushes look very professional and they are all of good quality. I love that they now have Bella and Bear written on the brushes as it makes them look far more professional. I do not have a favourite out of all of these as I love them all as do I like all the other Bella and Bear Products.
I would recommend this to friends, family and anyone who are looking for eye makeup brushes, Bella and Bear have quickly become one of my best brands and ones I can rely on when it comes to brushes. It is amazing for the price, I would repurchase and its quick and easy to just go to the brushes when you need them.
-I received this product in exchange for an honest review, views are 100% my own-
Where can I buy this?
Amazon.co.uk
How Much?
£10.50
Rating:
8/10