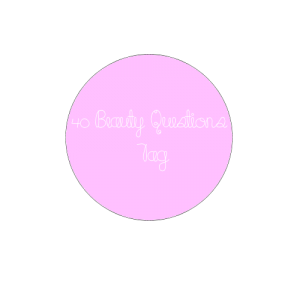 Here I am with my 2nd tag this one is 40 beauty questions;
SKINCARE
-How many times do you wash your face daily? Twice, sometimes once.
-What skin type do you have? (dry,oily,combo) I would say combo.
-What is your current facial wash? My current facial wash is one by Simple.
-Do you exfoliate? Sometimes .
-What brand do you use? I can't remember, I shall go check.
-What moisturizer do you use? Nivea or Simple
-Do you have freckles? No.
-Do you use eye cream? Sometimes, that is also Simple.
-Do you or did you have acne prone skin? No, I usually get 1 or 2 spots but I never get many.
-Did you ever have to use Pro-activ? I have Pro-active and I love using it, it makes me feel fresh and clean.
MAKE-UP
-What foundation do you use? Rimmel Wake Me Up Foundation
-How about concealer? FITME! Concealer
-Do you know your undertone color? No, that is bad really isnt it.
-What do you think of fake eyelashes? I like them but they never suit me, I shall go on a hunt to find some that suit me because I have medium length eyelashes anyway and they are very dark.
-Did you know that you are suppose to change your mascara every 3 months? Yes, I knew this.
-What brand of mascara do you use? The Body Shop or MUA.
-Sephora or MAC? Probably MAC
-Do you have a MAC Pro-card? No.
-What makeup tools do you use in make up application? Brushes and Eyelash curlers.
-Do you use make-up base/primer for the eyes? Not all the time but sometimes.
-For the face? Yes I always use Baby Skin Primer
-What is your favorite eyeshadow (color or shade)? I love neutral colours like browns.
-Do you use pencil or liquid eyeliner?  I use a felt tip liner for top and pencil for waterline.
-How often do you poke your eyes with an eyeliner pencil? Hardly ever but they're times.
-What do you think of pigment eyeshadows? I love them they create a really nice look.
-Do you use mineral makeup? Sometimes.
-What is your favorite lipstick? MUA- Bare Shade 14.
-How about lipgloss? I never really use lipgloss.
-What is your favorite blush to use? I do not really use blush, even though I probably should.
-Do you buy your makeup on ebay? I have done before.
-Do you like drugstore makeup? YES I Love it.
-Do you go to CCO's? (cosmetic company outlets) Sometimes.
-Did you ever consider taking make-up classes? No, not really.
-Are you clumsy in putting on makeup? Yes sometimes.
-Name a makeup crime that you hate? BIG EYEBROWS.
-Do you like colorful shades of makeup (lipstick,eyeshadow) or neutral ones? Im a neutral girl.
-Which celebrity always has great make up? Kylie Jenner
-If you could leave the house using just ONE make up item,what would you use? The Body Shop Mascara
-Could you ever leave the house without any makeup on? Yes i do it on a daily basis
-Do you think you look good even without any makeup on? Sometimes har har, bit big headed.
-In your opinion, what is the BEST makeup line? I am loving MUA at the moment.
-What do you think of Makeup? I think make-up is a good idea, but do not feel you have to wear it, it is a hobby for some people and some people feel happy with or without it so do not judge, be comfortable in the skin you are in.