Good Afternoon Everyone!
Unfortunately I am not sure whether I have missed something out in this post due to my computer completely restarting, I lost my whole post that I had written so hopefully I have included everything I had written before.

I was contacted by Blossoming Gifts asking if I would like review a bouquet of flowers. I jumped at the chance because I absolutely love flowers. Choosing flowers is also a favourite of mine, I like to see the combinations and what would look good in my home. They also have kindly given me a code and a competition to run for you guys, more about that at the end of the post.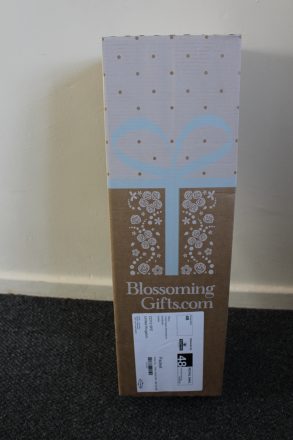 I was so excited to be receiving flowers as for me the last couple of weeks had been really rubbish and I was quite down to be honest (notice the lack of blog posts) so it was something that I knew was really going to cheer me up. So I sat down and had a look through all of their bouquets and I must say it was really hard to just pick one bouquet as a lot of them were so beautiful, I had such a tough decision. However I chose the bouquet 'Fondant Fancy' I loved the pink in this bouquet because to be honest who doesn't like pink? I thought really hard about it and whether it was actually going to go with things in my home but I definitely thought it was going to brighten things up a bit. I then received my flowers 3 days later. Which was extremely quick delivery if you ask me. The flower came VIA Royal Mail and I have only ever received flowers twice and both the times were from my current boyfriend. The first time I had a women come to my door and put them on the doorstep and I just thought it was odd until I got a message from him to check my doorstep and then the second time he came round with some roses. Which by the way were absolutely beautiful.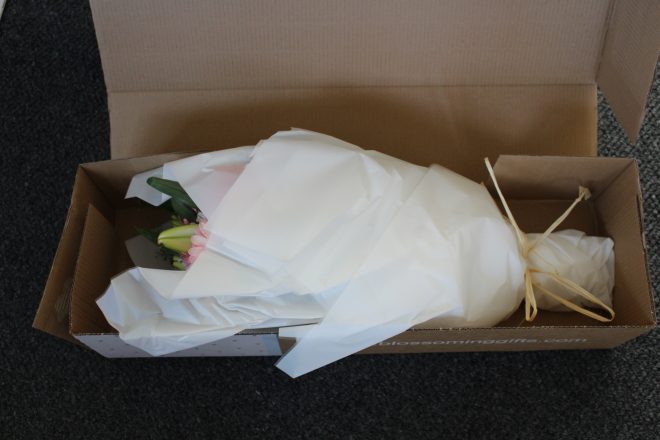 Back to blossoming gifts, I am just going to give you a little insight to their company and a bit about them. They have a huge range and variety of different products aswell as flowers and extra's. They have a range of different flowers such as; Autumn flowers, flowers by post, best sellers, scented flowers, luxury flowers, bouquet of the month, chocolate bouquets, whats new. You can even get flowers by occasion, birthday, romance, thank you, sympathy, new baby, get well soon, congratulations and anniversary. They also do gifts for all of these occasions. Not only do they have flowers by they also have things such as plants and add ons to your flowers such as, flowers and wine, flowers and balloons, flowers and chocolates, flowers and teddies and flowers with a vase. They also have a range of personalised gifts these include, jewellery, cufflinks, keepsakes, picture frames, champagne, wine, beer and cider, whisky and spirits, calendars, football newspapers, sports books, children's books, placemats, clocks, growth charts, Disney, personalised gifts for her, personalised gifts for him and personalised gifts for children. Last but not least they also do l of different hampers which are sweets, traditional, fruit and chocolate.

I must say I am absolutely in love with my flowers and they still look beautiful to this day and I have had them for a couple of weeks now. Some I must admit are dying but their life has been very long.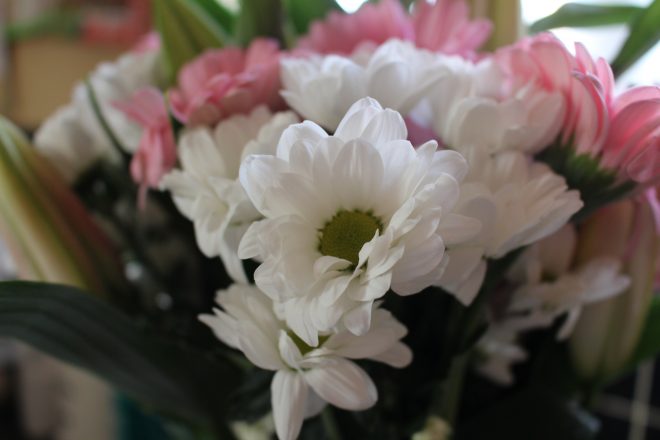 I love that Blossoming gifts have different price ranges and are definitely are affordable and you are paying a good price for what you are getting. They do flowers from under £20 – over £40 and there is such a wide range of variety to choose from and the hampers are also quite cheap but cheerful, everything is 100% affordable.
The 'Fondant Fancy' Bouquet I received was £20.99 so definitely affordable.
So i am just going to mention the ordering of these flowers as I love the options that they give to you.

First off you get to choose the size of your bouquet, so you can have a standard or a large. The large is an extra £5.00 so not too much if you think about it and it is definitely a reasonable price. Next you get onto whether you would like any extra's and you get a choice out of 10 items. The first add on you can choose is 50g Duc D'o Chocolates, you can add these for £2.99, you can also get a country jug for £8.99, Prosecco for £11.99, Teddy bear £8.99, Cake in a can for £5.99, Guylian 250g Chocolates for £6.99, Mini Birthday Balloon for £4.99, Pinot Grigio Wine for £10.99, A standard vase for £8.99 or Merlot Wine for an extra £10.99. Again so much choice to the gifts you would like to add onto your order. After picking your gift you then get to write a gift message and the recipients details. Onto the delivery part you can pick a delivery date and then you pick your delivery method. There are 4 different methods and you can choose from free standard delivery and it will give you an earliest delivery date and it may arrive 1 day either side of this date. You then have standard tracked delivery and this is an extra £3.00, then Premium Delivery which is £4.00 or you get the choice of Premium Pre 12 Delivery for an extra £7. Now this part is actually my favourite part as it has so many different options for different occasions. You get a drop down list of special delivery instructions and they give you a choice of, no instructions, leave in a safe place, leave on doorstep (personally my favourite, very romantic), leave in porch, leave with neighbour, leave behind shed, leave in shed, please knock hard (very considerate i think for those who might not be able to hear the door) and please be patient. I think this is a beautiful touch to a service and they definitely go the extra mile for you. Then you can choose your occasion and it might be they might just be for you so it's not an occasion.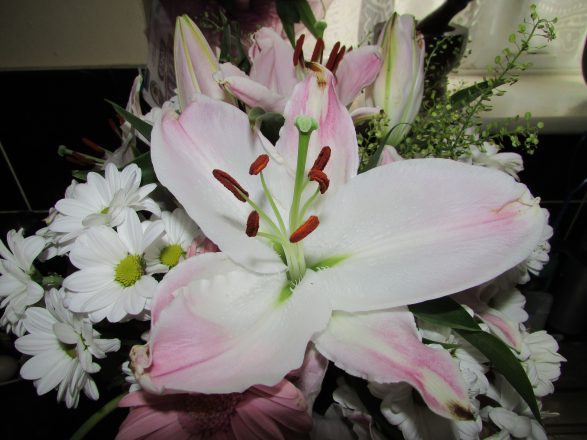 I know a lot of people mention that flowers are a waste of money because they do not last long and they would rather have something else, but that is not me at all, I for one LOVE getting flowers and they really cheer me up like nothing else would, they brighten up the home and really make my dull days brighter.

They were delivered in a box and were not squished at all and were beautifully wrapped, which made me extremely happy and I thought that maybe the flowers were going to be a little squished during delivery.
I just want to quickly add that Blossoming Gifts have few offers on at the moment so it is definitely worth checking those out!
Free Chocolates Offer – https://www.blossominggifts.com/flower-offers/free-chocolates
Discounted Flowers – https://www.blossominggifts.com/flower-offers/discounted-flowers
Free Large Upgrade – https://www.blossominggifts.com/flower-offers/free-large-upgrade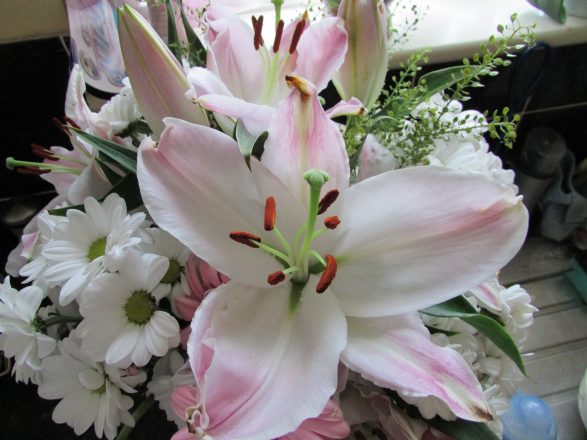 Furthermore Blossoming Gifts have given you guys 33% off Blossoming Gifts' bouquets using the discount code BGIFT33 (this exclude the flowers by post)
AND THERES MORE!
A GIVEAWAY they are giving YOU the chance to win the same bouquet that I received, all you need to do is enter below and give yourself the best opportunity by doing them extra entries (it will be worth it I promise you).
I hope you liked this post as much as I loved writing it. Oh and GOOD LUCK!
disclaimer: I received this product in exchange for an honest review, all views are my own and have not been influenced in any way.