I received this book from http://www.socialbookco.com/ , they kindly sent me a book in exchange for a review. I absolutely love reading so this was an amazing chance for me to get to read so many different books.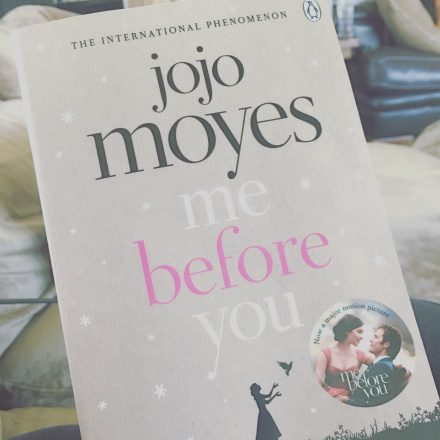 Title: Me Before You
Author: Jojo Moyes
Paperback: 481 Pages
Publisher: Michael Joseph
Price: £7.99
About the author
Jojo Moyes is a novelist and a journalist. Her novels include the bestsellers The Girl You Left Behind, The One Plus One, Me Before You and After You. Her novels have been translated into over 40 languages and have hit the number one spot in 10 countries. She is one of the few authors to have had three novels on the New York Times bestseller list at the same time.
Me Before You has now sold over 8 million copies worldwide and Jojo adapted the novel into a screenplay, of which the major film production, starring Sam Claflin (The Hunger Games) and Emilia Clarke (Game of Thrones), was released in summer 2016. Jojo lives in Essex with her husband and their three children.
Synopsis
Lou Clark knows lots of things. She knows how many footsteps there are between the bus stop and home. She knows she likes working in The Buttered Bun tea shop and she knows she might not love her boyfriend Patrick.
What Lou doesn't know is she's about to lose her job or that knowing what's coming is what keeps her sane.
Will Traynor knows his motorcycle accident took away his desire to live. He knows everything feels very small and rather joyless now and he knows exactly how he's going to put a stop to that.
What Will doesn't know is that Lou is about to burst into his world in a riot of colour. And neither of them knows they're going to change the other for all time.
My Review
The main character in this book is Lou Clark, she feels the pressure from her parents and sister after losing her job as they rely on her for their income. She finds a job as a carer for Will Traynor. Will was a normal boy who you could say lived life to its fullest . He was injured in a motorbike accident and was left in quadriplegic state.  Will hates being stuck in his wheelchair and hates his quality of life and thats when Lou overhears Wills mother talking to his sister about him asking her to help him in 6 months time. Lou speaks to her sister and she tries to show will that life is worth living no matter what state you are in, there are still things you can do, you don't have to sit indoors all day. I must say the humour in this book is amazing. There was quite a few times where I would sit and giggle to myself after reading the book.
This book was beautifully written, I imagined every detail and felt every emotion, I was really into this book. As soon as I had got to the last page i just couldn't hold my emotions in, i really didn't want it to end. I really got into the characters of Lou and Will and I don't think I have ever been so into a book before. Jojo Moyes is so talented and I am so glad to have had the chance to read this book. I do not want to say too much as I do not really want to give away the whole story because it is worth the read and I would not want to spoil it for anyone. I was really affected by this book and when I had finished it i just didn't know how to react it was just a huge hard impacting book to me. I was to re-read the book all over again because It was just amazing.
You can find this book on this website, it allows you to find the book cheaper.
www.socialbookco.com/book/9780718157838/me-before-you?rid=62