Good Morning!
As I am no longer pregnant I thought it was a brilliant time to start working alongside FemmeLuxe again! My body isn't completely back to normal and I've been struggling to find clothes to fit me so what perfect timing.
this time around I actually chose an outfit, usually I do a theme but today is a little different.
I chose three items, leggings, top and cropped jumper.
To start off with let's talk about the top. The top is suppose to be oversized but I must have either ordered it in the wrong size or it is generally a extremely fitted one. I haven't added a photo of me in it because it is very fitted and no one wants to see that!
However I do love this top as you cannot really go wrong with a plain white tee can you? You can pair it with literally anything. Joggers, leggings, jeans, shorts even pyjamas. It is definitely a must have basic for your wardrobe and I absolutely love the way white tees look on. I am going to give this 3/5 stars only because I'm unsure on the fit but nevertheless a white tee is a white tee right?
next we have these faux leather leggings. Now I have been looking for a pair of these for soo long! I love the way they look and you can dress them up or dress them down. These are actually so so comfy and was pleasantly surprised. I have still got a little weight to loose so you can see my lumps and bumps through them but I love them. I will definitely be pairing these with a nice top when we are allowed back out!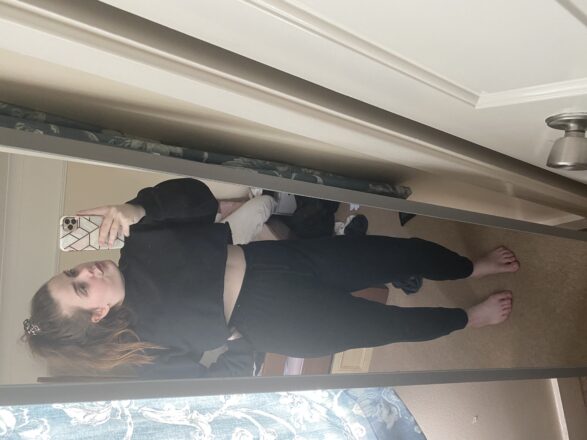 last but no least we have a cropped jumper, I'm in love with cropped items at the moment, cropped tops and jumpers are making me really feel 'myself' after giving birth to a baby you need anything to make you feel better about your body and this is what cropped items do for me. This particular one is cropped just in the right position, sometimes they're a little long for me as I'm short. It is also so comfy, it's soft inside so no worries about it being itchy or uncomfortable and because it's black you can pair it with anything!
**disclaimer; I was sent these items in exchange for an honest review, all opinions are my own and have not been influenced in anyway.