I was given the opportunity to review MR BLANC teeth whitening Kit, obviously I said yes. White teeth is something that I have always wanted, I seem to always look in the mirror and be disappointed in them. I have quite straight teeth don't get me wrong, but something that I have always lusted for is whiter teeth and I think many can agree. I have teeth envy when I look at other peoples as some people have naturally really white teeth but me? No. So I thought I would give Mr Blanc Teeth Whitening a go and see if it helps me.
About the product:
Mr Blanc is a natural and peroxide free teeth-whitening product that if used correctly, will get your teeth looking and feeling whiter in 14 days.
Ingredients:
Sodium Chlorite 1.00%

Glycerin 68.10%

Aqua 20.00%

Cellulose Gum 10.00%

Citric Acid 0.20%

D, L-Menthol 0.20%

EDTA 0.50%
My Review:
First thing I want to say before I start is that Mr BLANC teeth whitening is enamel friendly and does not use any harsh chemicals on your teeth so it is completely safe!
I was sent a 2 week supply of MR BLANC,  you get 14 sachets, 1 for every day of the week and that consists of a upper teeth strip and lower teeth strip. You leave it on for 30 minutes each day and then brush your teeth afterwards. In the first couple of days I saw a MASSIVE difference to my teeth and I can honestly say by the end of the two weeks I could not believe what it had done to my teeth, they looked so much whiter and I was really impressed. It boosts your confidence when you see something dramatically change within you and that's what I loved about these strips as it  definitely gave me back my confidence. They are easy to apply but I always found that they would stick better if I were to dry my teeth first that way they do not move around and the product stays on your teeth. The gel is minty and does not have a horrible taste if you do manage to get some on your tongue (not sure how or why but I did) then it does not matter as it does not have a disgusting taste.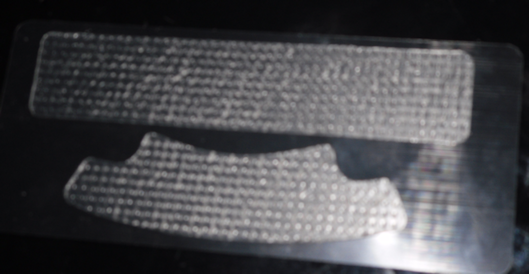 So I used the strips for 2 weeks and I used all the supply and followed the instructions and used them how I should have and I am so impressed. Overall my teeth look so much more whiter and even people have commented on them which boosts my confidence a lot, having nice white teeth is an obsession of mine and I will definitely be buying more. II would recommend this to anyone who wants whiter healthier teeth!
Before & After pics:
               I am really sorry for the hugely disgusting photo's.
Before                                                     After
I generally think my teeth look ALOT better. Just to clarify when I took these pictures I had a cold so my lips are very dry and I was not feeling 100% (theres my excuse for the disgusting photo's) haha
How much is the product?
A Two Week Supply – £19.99
A Four Week Supply – £34.99
A Six Week Supply – £49.99
A Subscription – £15.99 A Month (20% Off)
Where can I buy the product?
www.mrblancteeth.com
Rating:
9.5/10