Today I was racking my brains thinking what I can blog about. It took me a VERY long time to think of something interesting and something short and simple. So here it is 5 Things I love about Christmas.
Before I start I want to share with you the first thing that confirms to me that it is nearly Christmas and hopefully you all know what I am talking about… COCA-COLA ADVERT. This advert confirms completely to me that it is nearly Christmas and I should start getting festive RIGHT NOW. So now I've told you that, let's start.
Number one;
We all love movies right? especially Christmas ones. As the build up to Christmas comes every year I watch this film. It has a very abnormally large Elf and he managed to get into Santa's present sack and  It is my FAVOURITE Christmas film and if you haven't seen it get in your pajamas's get a hot chocolate with marsh-mellows and a blanket and snuggle up and watch it! Have you guessed what it is already? if not, its ELF. This film has me in stitches I absolutely love it I even got it as a Christmas present one year it is such a festive film. please if you haven't already go and watch it just for me and comment underneath what you thought of it. I promise it wont disappoint.
Buddy The Elf, What's your favourite colour?
Number 2;
CHRISTMAS DECORATIONS!, this is the second thing that confirms christmas is on its way!, BUT this year we put them up earlier than we usually do but im so so so excited about christmas. Going to the Christmas lights switch on, driving past people's houses with decorations outside that light up the whole village and the pretty little baubles and the chocolates on the tree. EEEK.
Number 3;
Christmas Crackers and the endlessly not funny jokes, I love Christmas crackers, and me and my mum always try to fight to get the red fish first, if you have no clue what I'm talking about it's a red fortune-teller fish, it is literally the tradition in our house to get this fish in Christmas crackers, the crackers HAVE to have them in.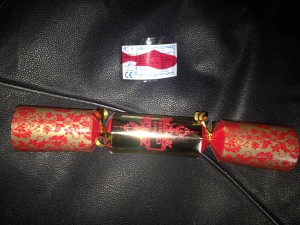 Number 4;
The Dinner!, Everyone loves a roast dinner, but for some reason the one at Christmas tastes so much better than a usual normal roast dinner on a Sunday. You get all the trimmings too!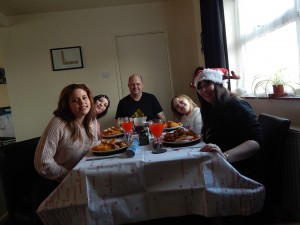 Last But Not Least;
FAMILY, Christmas day is about forgiving and forgetting for that one day and sharing the day together, playing the board games, taking pictures and having a laugh, this is definitely the most important for me at Christmas I love to be surrounded by my family, people who care and love me.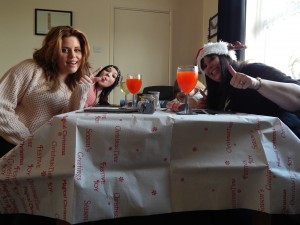 So there is it, It is a bit later than expected but those are my favourite things about Christmas.
♥WithLoveTiff