Have you ever wondered if it is possible to get clothing fitted to you for a  good price that isn't too expensive? I did and I was offered of having my very own custom fitted shirt. I jumped at the opportunity as I have never had a shirt customised and fitted to me before. It is now that time in my life where I am trying to find a job and having a nice fitted shirt will always help with those awkward interviews you need to go to. I chose a light pink shirt and I LOVE IT!
About Sumissura:
The online custom clothing company, Tailor4Less, has recently launched a new brand exclusively dedicated to their female public, Sumissura.com.
The previous female website, Tailor4Less Woman, has been given a major upgrade with Sumissura.com, a new female tailor-made fashion brand. The name Sumissura roughly translates to "made-to-measure" from Italian, as creating personal masterpieces for every woman to wear is one of the main goals of this new online shop. The name definitely fits the vision.
Sumissura understands that every woman today is on a tight schedule and has little time to try on outfits. That is why this online shop has been designed to be as most streamlined as possible.
Thanks to its user-centered design, the new website is simple and very easy to use. The Sumissura collections continue to use the revolutionary 3D configuration system, but with a slight, yet very important change. Unlike, the previous configuration system, Sumissura now provides you with an actual model to design users' unique garments on. This state of the art technology allows them to visualize how a design will look on a person, whether it may be for the customer herself or a friend. Sumissura contains hundreds of customization options to make sure that every user can create the designs that suit her best.
Sumissura allows women to express their very own personal style whether it may be via the suits, shirtsor slacks that they wear. In addition, users are given the chance to customize every garment with unique personalization options to add a finishing distinctive touch. Much like the world around us, fashion is constantly changing. Sumissura wants to ensure every woman that they too can keep up with the latest trends.  With a catalogue of more than 180 fabrics, people are sure to find one that fits their style perfectly. Sumissura has all of this to offer and more while making the products affordable and without sacrificing the quality of the garment.
Review: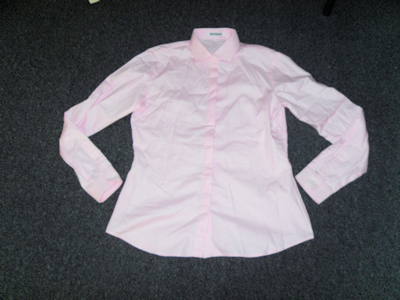 The shirt that I chose I customised it myself, I thought this process was very easy and it also helped me because I knew how it was going to turn out and I knew I was going to like it. I love the fact that it is made to measure you aswell because we all have that problem wth shirts where its popping open, or is that just me? The first thing I did was choose between having long sleeves, bracelet sleeves or short sleeves. After I had chose that I then got the choice if I wanted standard sleeve details or a convertiable sleeve and if I wanted a slim fit or loose fit. (I loved this choice as I do not always want a slim fit shirt). Another option I got was whether I wanted the hem line to be rounded or straight. I then had 8 options of collars, 4 choices of fastenings, 8 choices of cuff styles, 9 options of style of pockets and then there was 2 options, one was did I want a pocket and the other was did I want sholder straps.  After I had answered all of those and pick and chose what I wanted on my shirt I then got to choose the fabric. I chose Sydney as it was a really nice pink colour but I didn't realise what the fabric looked like as it did not look like that on the model to the right of my page so be careful when choosing. I then got the choice of having a monogram, customised neck, cuff styles, elbow patches and whether I wanted to add colour buttom holes or threads. After this step I had finished customising my shirt and I was then able to add my measurements and it measures everywhere it needs to so that they can design the shirt to fit you. I waited patiently for a couple of weeks until it finally came through the post and I was shocked because I knew it was going to take a long time because it was specially made for me but it came earlier than I expected. I opened it and I absolutely loved it. Sumissura's clothes are made of quality fabrics and it fit me perfectly. I have never ever ordered a made to fit shirt online so I was quite weary of what it was going to look like and whether I put my measurements in properly but it fits in all the right areas and I am extremely happy with it.  Overall I am extremely happy with this shirt and I have worn it a couple of times out the house I am 100% thinking about purchasing a more of a summery shirt.
Where can I find this item?:
Sumissura.com
How Much?:
Mine cost £36.95 but it depends if you want extras and you customise to yourself so it may be cheaper or more expensive.
Rating:
8.5/10