Loungewear is today's fashion and is growing increasingly popular and will continue to do so. I personally love loungewear. If I'm not at work then I'm at home lounging around the house.
Most of you would have seen my past posts with Femme Luxe before and know that I choose a theme. This time I went for Lounge Wear.
So I have chosen four different loungewear sets and they are all girly, flattering, comfy and I am sure you will love them as much as I do!
---
Dusky Pink With White Stripe Lounge Wear Set – Lexi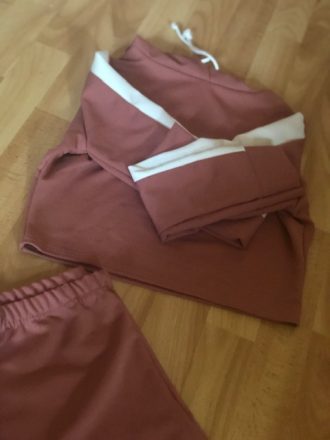 Lounge in style in our Dusky Pink With White Stripe Lounge Wear Set featuring cropped hoodie and long legged pants. Style with some cool trainers and you're good to go!
The first set is a dusky pink co-ord.
I love this colour as it is so different and gives that little pop of colour into your wardrobe. especially when you are like me and your wardrobe is full of black, grey and white.
I absolutely the style, fit and material. I would feel completely comfortable popping to the shop in it and walking down the street as I feel like no one would really notice.
I love that this loungewear set has a cropped hoodie which makes it looks stylish and is also very comfy at the same time. The trackies are slim fit which is very flattering.
This also comes in black, red, green, blue, nude, stone, crocodile print, lime green, and rust.
So a huge variety to suit everyone. Plus they have 50% off! – Currently £18.99 instead of £37.98
9/10.
---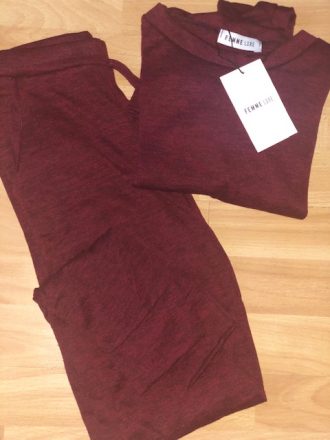 Keep snug this season and pull off a glamorous but relaxed style in our Wine Loungewear Set! Add a pair of high top trainers for a sassy take on this seasons sports luxe look! This super sleek look is great for a day out shopping with the girls!
The next set that I chose was this gorgeous wine coloured tracksuit.
I absolutely love this colour and I've been wearing it a lot recently because I just love the way it looks on me.
It is perfect for its intended use (lounging around) however It is a bit see-through so the only thing I would say is to be careful with what you are wearing underneath. Personally, because of this, I wouldn't wear it out in public but if you're confident then I'd go for it.
The material is so lightweight and so quick and easy to put on. You could style it with some trainers and wear this on a plane or whenever you need to be comfy.
This outfit also comes in Khaki, black, beige and grey.
Currently on sale – £12.99 instead of £25.98
7/10
---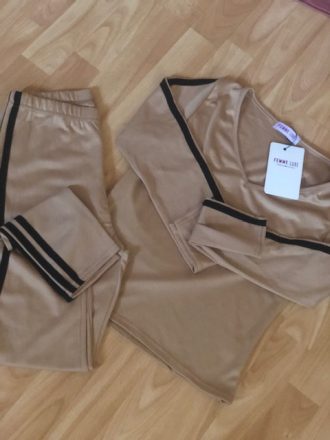 Be the casj Queen in this Tan Striped Loungewear Set, with its long length bottoms, long sleeves and stripes you can chill with confidence. Match with your fave sliders.
This next loungewear set is lovely!
The material is really thick and definitely not see through.
I absolutely love this colour but unfortunately does not suit me very well at all!
If you fake tan and are quite stylish and can pull off almost everything then this loungewear set is for you!
The only downside I have to this set is that the material clings to every curve, lump and bump. So it is not flattering at all on me.
This won't be the case for everyone though as we are all different! Although still, it is very comfy!
Available in Burgundy and Black.
On sale £16.99 – instead of £33.98
4/10 from me, sorry!
---
Grey Off Shoulder Loungewear Set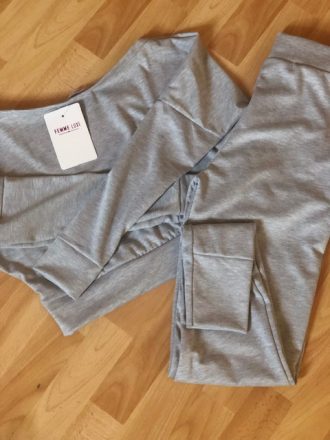 Get yourself relax ready in this Grey Off Shoulder Loungewear Set. With a perfect matching co-ord to chill in you can be sure that although you're relaxed to the max no style points are sacrificed if duty calls. You can guarantee that this hot new loungewear set, including soft cuffed joggers with a drawstring waist and a cropped matching off the shoulder top, will have you chilled to the extreme. Pair this new loungewear set with some comfy trainers and your fave bomber jacket for that luxe off-duty vibe no matter where the evening may take you. For chilled evening drinks with the girls this summer some barely there heels and a waterfall duster coat will give this look the perfect smart casual vibe that is all the rage this season.
This is an absolutely stunning lounge set and I think it is my absolute favourite out of all of these!
Perfect for lazy Sundays, airport journeys and for any time you can't be bothered to chuck anything else on and you don't want to look lazy but lounging around in your pyjamas all day.
 I could sit in this outfit for days it is that comfy.
I absolutely love that the top is off the shoulder it creates a whole different look and especially if you fake tan, its an absolutely gorgeous loungewear set.
Id definitely wear this out and pair it with my Nikes.
The trousers are high waisted which makes it so much comfier as I don't really like low rise trousers but you could wear them low rise or high rise its completely up to you!
They do not cling, its a lovely fit and also very stretchy (perfect for Sunday dinners)
Available in Black, Khaki, Pink, Stone and Camel
On Sale £15.99 instead of £31.98
9.8/10
---