Title: Geek Girl – From Geek To Chic
Author: Holly Smale
Genre: Young Adult
Paperback: 378 Pages
Publisher: HarperCollins
Price: £6.99
Geek Girl is Book #1 in the series. They're currently #4 books in the series
#1 Geek Girl – From Geek To Chic
#2 Geek Girl – Model Misfit
#3 Geek Girl – Picture Perfect
#4 Geek Girl – All That Glitters
About the Author:
Holly Smale is a debut author. Clumsy, a bit geeky and somewhat shy, she spent the majority of her teenage years hiding in the changing room toilets. She was unexpectedly spotted by a top London modelling agency at the age of fifteen and spent the following two years falling over on catwalks, going bright red and breaking things she couldn't afford to replace. By the time Holly had graduated from Bristol University with a BA in English Literature and an Ma in Shakespeare she had given up in modelling and set herself on the path of becoming a writer. Holly is now a fully fledged author and blogger and is currently writing the sequel to Geek Girl.
Synopsis:
"My name is Harriet Manners, and I am a geek."
Harriet Manners knows that a cat has 32 muscles in each ear, a "jiffy" lasts 1/100th of a second, and the average person laughs 15 times per day. She knows that bats always turn left when exiting a cave and that peanuts are one of the ingredients of dynamite.
But she doesn't know why nobody at school seems to like her.
So when Harriet is spotted by a top model agent, she grabs the chance to reinvent herself. Even if it means stealing her best friend's dream, incurring the wrath of her arch enemy Alexa, and repeatedly humiliating herself in front of impossibly handsome model Nick. Even if it means lying to the people she loves.
Veering from one couture disaster to the next with the help of her overly enthusiastic father and her uber-geeky stalker, Toby, Harriet begins to realise that the world of fashion doesn't seem to like her any more than the real world did.
As her old life starts to fall apart, will Harriet be able to transform herself before she ruins everything?
Blurb: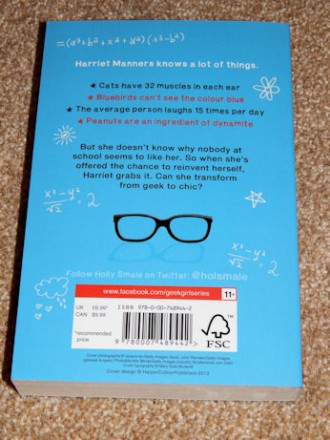 Harriet Manners knows a lot of things.
Cats have 32 muscles in each ear
Bluebirds can't see the colour blue
The average person laughs 15 times per day
Peanuts are an ingredient of dynamite
But she doesn't know why nobody at school seems to like her. So when she's offered the chance to reinvent herself, Harriet grabs it. Can she transform from geek to chic?
My Review: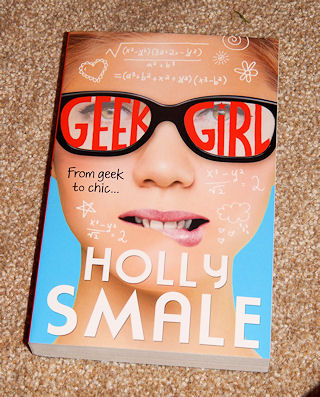 I always say I am not into reading books and I have to be in the mood to read them. Which is completely untrue now, because I have read so many books that I have enjoyed, I am now a book reading lover, if you give me the right book that is?
Geek Girl really had me hooked, I read it from cover to cover and it left me wanting to read more, which is something that does not often happen.
Geek Girl was so exciting because when I was younger I wanted to be a model. I was not awfully popular like Harriet and now I only have one friend just like Harriet.  Anyway more to the point, Harriet Manners, which states in the title is a 'GEEK' she has written clearly in very bold red letters on her bag. Which of course, she did not write herself.
She has a best friend 'Nat'. Nat's dream is to become a model and she loves fashion which is why it divides her and Harriet because Harriet hates fashion.
As the book goes on Harriet is spotted by a London modelling agency. She hides under a table because that is what she has done ever since she was a child when she was scared.  Ultimately underneath the table she meets Lion Boy AKA Nick, He is a handsome boy who works for the modelling agency and as the book goes on you get to realise that Nick was actually the one who found her.
Harriet see's being a model as a chance to change herself to go from 'geek to chic' maybe she wouldn't have the problems with Alexa and she would be different. Unfortunately it does not go as planned. She has to lie to Nat when she goes to her first shoot in Russia because if Nat found out she knew she would be upset. Harriet and her dad also lie to Annabel Harriet's step mum and her dads wife. Although we go on to find out Annabel knew all along.
I think the book is beautifully written and cleverly thought out. It had funny bits throughout and it kept you hanging an interesting read too.
I loved the subtle romance between Lion Boy and Harriet it was very underlying and you could tell something was going to happen but you didn't know quite when it was going to happen. This is why I loved the ending also. Finally I was thinking to myself.
I also loved the fact apart from lying to the people Harriet loved, she kept true to herself which is amazing. She is incredibly lucky to be supported by her dad, Nat, Annabel and Toby, well and Lion Boy if he counts.
It is a very 'laugh out loud' read but also quite serious and you have to try and hold back the tears.
It is a stunning book and it was a really quick read. I was quite upset when the book had ended but I have the other 3 in the series waiting for me to read them and I am extremely excited to do so. There is an underlying message or a moral of the story if you like and that is 'don't change who you are to please other people' I think it is very important for a 15 year old girl to know that.
Overall Geek Girl was totally my cup of tea and I adored it and I cannot wait to read the others, I was very engaged in the story and my imagination just went wild. Fantastic read, I would definitely recommend.
5 Stars from me.
Giveaway: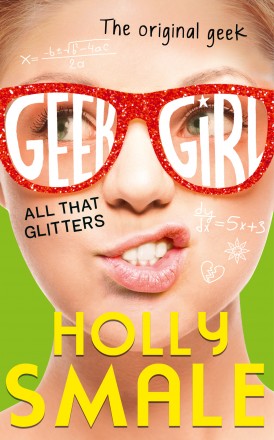 I am giving away Geek Girl – All that Glitter which is book #4 in the series and you also get your own pair of sparkly red glasses.
"My name is Harriet Manners, and I am still a geek." The fourth book in the award-winning GEEK GIRL series. Harriet Manners has high hopes for the new school year: she's a Sixth Former now, and things are going to be different. But with Nat busy falling in love at college and Toby preoccupied with a Top Secret project, Harriet soon discovers that's not necessarily a good thing…
The fourth book in the hugely successful Geek Girl series!
GEEK GIRL was THE No. 1 children's UK debut of 2013
GEEK GIRL – WINNER of the teen category of the Waterstones Children's Books Prize 2014
Geek Girl sales have been going from strength to strength. Book 1 has now sold over 100, 000 copies while book 2 has almost sold 45, 000 (as of May 2014)
The smart and sassy new voice in teen fiction – Geek Girl defined the new 'clean teen' genre
GEEK GIRL shortlisted for the ROALD DAHL FUNNY PRIZE 2013
Geek Girl has a fantastic and engaged following on Facebook – now with more than 13,000 likes!
Praise:
"Loved GEEK GIRL. Wise, funny and true, with a proper nerd heroine you're laughing with as much as at. Almost." James Henry, writer of Smack the Pony and Green Wing
"A feel-good satisfying gem that will have teens smiling from cover to cover, and walking a little taller after reading" – Books for Keeps
"I would highly recommend Geek Girl to anyone who likes a good laugh and enjoys a oneof-a-kind story." Mia,Guardian Children's Books website.
You can buy the book here – RRP £12.99
You can also have a look at their facebook page here