I found myself sorting (more like tidying) my room this week, I was sorting through my desk more than anything because I am getting rid of it and I went through all my make-up and my skin care products. I was sorting through them and even after getting rid of LOADS I still managed to have so many to find storage for. I didn't even know I had so many as some were in draws some were in boxes and some were just on top of my desk. So I thought I would share with you my Skin Care Products, some of them I haven't used but some of them I have, It would also be interesting for you to tell me what you think of some of this products.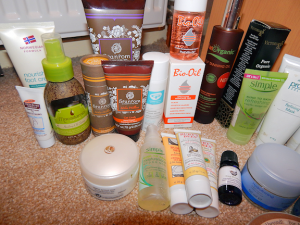 Top Row From Left To Right;
♥Norwegian Formula Nourish Foot Cream
♥Palmers Massage Lotion For Stretch Marks
♥Macadamia Healing Oil Spray
♥Sranrom Massage Oil, Body Cream and Hand Cream
♥Bio Oil
♥Tan Organic
♥Victoria&K Argan Oil
♥Simple Facial Wash Gel
Bottom Row From Left To Right;
♥Skin Cream
♥Simple Hydro Mist
♥Burts Bee's Foot Cream, Hand Cream and Body Lotion
♥Hydrofirming Cream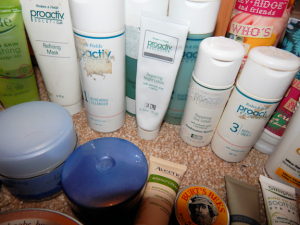 ♥Pro-activ
♥Aveeno
♥Burts Bee Hand Salve
♥Simple Eyeball Soothing
♥Bev Ridge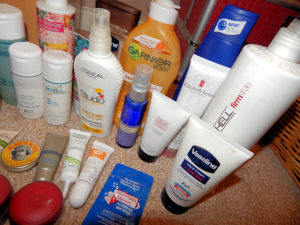 Left to right;
♥Studio Hair Fix
♥Garnier Body Tanning Lotion
♥ Beauty Sleep Night Cream
♥Gucci Body Lotion
♥Elizabeth Cream
♥Nivea Body Lotion
♥Vaseline Hand Cream
♥Paul Mitchell Firm Style
And also they're some little samples of things.
This is all my Skincare Items, plus i realized some bath items too. As you can see they're quite a lot and I am a little bit of a hoarder because I never know when things will come in handy. (Typical Girl) It is something that most girls do.
I hope you enjoyed taking a look at my skin care products as much as I did finding them.
WithLoveTiff
♥