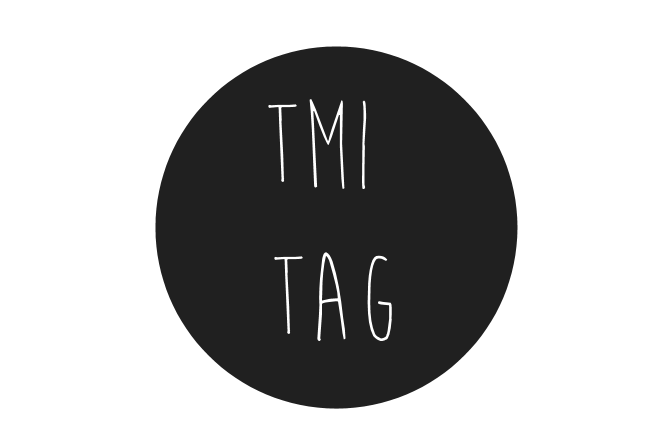 HII, I had a little snoop round on other peoples blogs and different website and did a lot of research for new blog post idea's and I came across the TMI tag. All the ones I read were from years ago but I managed to find a 2016 edition so here we go.
What are you currently wearing? – Minnie Mouse Pyjama's
Have you ever been in love? – I would say so yes
Did you ever had a terrible breakup? – I don't think so as not actually going out with the person does not really count as a 'break-up'
How old are you? – I am 19
How tall are you? 5ft 2″ – im so short 🙁

How much

do you weigh? – Really do not want to share that…
Do you have any piercings? Yes 7 – Helix, Tragus, 2 Ear piercings, Belly, Tongue and Nose
Do you have any tattoos? No – not at the moment 😛
What's your favorite drink? – I LOVE Lilt and Hot Chocolate at the moment.
What's your favorite song? Chainsmokers – Closer
What's your Zodiac sign? – Cancer
How long does it take you to shower? anytime between 10 and 30minutes
What's favorite show? I do not really tend to watch tv that often but I love 'say yes to the dress'
What's your favorite bands? hmm not sure on bands, if we go for the ol classic guns n roses or madness, does that count?
Something you really miss? being young and not having responsibilities
Where do you go when you're sad? Outside to go for a walk or sit in my nans 'cosey spot' as thats what I like to call it.
How long does it take you to get ready in the morning? anytime from 10minutes-1hr
Have you ever been in a physical fight? – no never im not that strong.
What turns you on? my boyfriends smile 🙂
What turns you off?people showing off
Quality you look for in a partner? The way they care for someone
What's your favorite color? pink?
Loud music or soft? soft
Favorite Quote? 'Don't Give Up'
Favorite actor? Will Ferrell
The reason you joined WordPress? To be able to put across my opinions and thoughts an take my mind off of other things.
Do you have any fears? What they are? Water, I cant swim.
What's the last thing that made you cry? hurting myself (im a wimp)
Meaning behind your Blog Name? Just came to mind so I had it haha
Last time you said you loved someone? Today
Last book you read? me before you – jojo moyes
The book you're currently reading? none 🙁
Last show you watched? OITNB
Last place you were? Boyfriends House
Last sport you played? Football I guess
Who's the last person you talked to? My Boyfriend
Last song you sang? Chainsmokers – Closer
Favorite chat up line? i dont have one D;
Do you have a crush? – no i have a boyfriend
The relationship between you and the person you last texted? he is my boyfriend
Favorite food? spaghetti and meatballs . yum.
Place you want to visit? New york
What's the last time you kissed someone?  3 days ago
Last time you were insulted? probably this morning
Favorite flavor of sweet?  Lemon
What instruments do you

play

?? – none im rubbish 🙁
Favorite piece of jewelry? my belly bar?
Have you ever used it? yes?
Last time you hung out with anyone? today
Who should answer these questions next? EVERYONE! i would love to see all of your answers.