I had a look through my drafts of posts and I completely forgot to post this! I have been back to work and lots of crazy things have happened since but here it is anyway!
Working with Femme Luxe is absolutely crazy but I love doing it, it gives me a chance to find new styles and try new and different trends.
I thought I would stick to basics this time LOCKDOWN LOUNGEWEAR. So we have been in lockdown for the last 3 months and things are slowly easing. but how essential are loungewear during a lockdown? something you can wear every day no one is going to see you and your living your best life in your comfys every day and if you're like me have eaten way too much chocolate too (oops)
---
The first set I chose was actually two separate items that I teamed together. 'Black 'Basic' Short Sleeve Slogan T-Shirt' and 'Grey High Waisted Lightweight Joggers'
Crop it like it's hot and change up your 'basic' wardrobe in the Black 'Basic' Short Sleeve Slogan T-Shirt. With a 'basic' slogan in a cropped fit, we're obsessed with this T-Shirt.

Black
'Basic' Slogan
Short Sleeve
T-Shirt

Keep it cute and cosy this season and slay the off-duty cutie in our Grey High Waisted Lightweight Joggers. Featuring a light weight design with a high waist design and cuffed leg, you'll be obsessed with these joggers, girl. Team with a pair of fresh white trainers and pin straight hair for a look that will bang on the 'gram.

Grey
High Waisted
Lightweight
Cuffed Leg
Joggers
The t-shirt is a lovely fit, it is quite fitted but when wearing joggers I like a top to be fitted, it's really comfortable and easy to move around in and not too tight. an easy throw on top. The joggers are an absolutely perfect fit and are a little tighter than your normal joggers nevertheless the outfit come together really nicely and was super comfortable and perfect for those loungey days! I also like that this top is versatile you could pair it with jeans, faux leather leggings, skirt anything really!
The top comes in a range of sizes from 6-16 and retails for £4.99
the joggers are in sizes XS-L and are currently £9.99
---
The next set I chose was the 'Grey Frill Jumper Loungewear Set'
We are in love with this Grey Frill Jumper Loungewear Set. This gorj frill detailed jumper in a super soft material is complete with matching long length bottoms. Team with a pair of chunky trainers for a gorj comfy look.

Grey
Frill Detailed Jumper
Long Length Trousers
Two Piece Set
Loungewear
I absolutely fell in love with this loungewear set when I saw it. It's so different from what you usually see I love the material as it is so comfy and the frill detail is absolutely stunning. When I put this lounge set on I felt 'myself' and that is something I haven't felt for a while. I have been wearing this throughout lockdown and will continue to do so. I absolutely love this set. The only thing I will say is that it has some elastic in which can get a little itchy but that is my only con about this set as it is beautiful. 5 stars for this one!
This comes in sizes S-XL and is currently £19.99
---
The last loungewear set I chose was the 'Rose V-Neck Boxy Loungewear'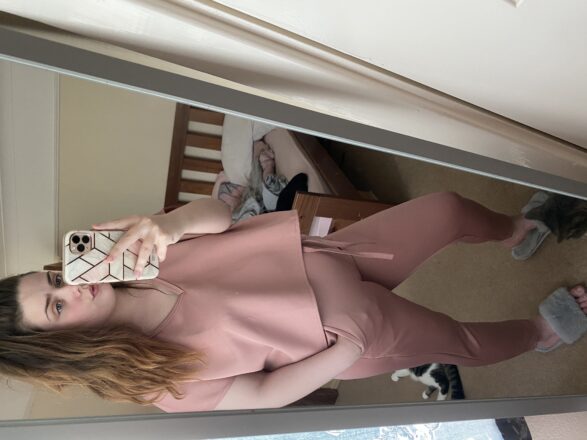 A new way to chill in style. We are loving the Rose V-Neck Boxy Loungewear Set this season. This two piece features matching comfy T-shirt and straight leg jogger trousers. Co ord with a pair of fluffy sliders or spice it up with a pair of barely there heels and slay!

Rose
V-neck
Loungewear
Tracksuit
Cropped length
Elasticated waist band
I love the rose colour of this lounge set and the model in the photo pulls it off so well. When I tried it on I automatically knew that this doesn't suit me, boxy tops always used to suit me but as my body has changed I feel like this style no longer suits me. I would still wear it though because it's for lounging about in the house and its super comfy but I certainly wouldn't let anyone else see me with it on (camera angles are your best friend) I still do like it but not on me. I'm quite short too so that might be why.
This comes in sizes S-L and retails for £17.99.
---
**disclaimer; I was sent these items in exchange for an honest review, all opinions are my own and have not been influenced in anyway.