As you all know I have been working alongside Femme Luxe for quite a while now. 
I had a short break from working with them due to a lot of different things but I am getting back into the swing of things now!
I have always found it really difficult to find clothing to suit me and especially with adjusting to my new body. Once again I've gone completely out of my comfort zone and these items are pieces of clothing I never would have worn before. 
---
The first item I chose was 'Black High Waisted PU Skinny Trousers – Skylar' 
Stay on trend this season and score some serious fashion points in our Black High Waisted PU Skinny Trousers. With a high waisted fit and skinny leg, you'll wanna make sure you've got these faux leather trousers in your basket this season.

Black
High Waisted
PU
Skinny Trousers
I have only just starting to wear the whole faux leather look as I never thought they suited me before. I was really eager to try these on, unfortunately, I got them in a size that was way too big and they were super baggy. However from trying them on I could tell that they were really good quality, VERY stretchy and had I have bought the correct size I'm sure they would have been the perfect fit. The thing I love about these types of trousers is that you could dress them up or down. Dress them down with a baggy t-shirt and some trainers or dress them up with a nice top and some heels. Such an easy outfit. 
These trousers come in a range of sizes from size 6 to size 16. 
These are currently retailed for £29.98 but currently on offer for £14.99 however there is an extra 15% off at the moment which brings them down to £12.74.
---
The second item I chose was 'Black ribbed off the shoulder crop top – Kourt'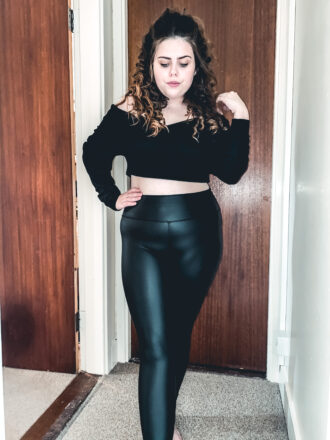 Make it an off the shoulder moment and score some serious fashion points in the Black Ribbed Off The Shoulder Crop Top. Dress this plunging top up with some ripped jeans and killer heels.

Black
Ribbed
Off The Shoulder
Crop Top
When I came across this I fell in love with it, I must admit this is something that I would usually choose but probably not cropped. I'm not the most confident about my stomach since having Phoebe. Nevertheless, this top is a lovely fit, I love how it crosses over and it is so comfortable. You can see here I have paired it with some faux leather leggings but you could also wear it with jeans or a skirt, again you could use it to either dress up or dress down. 
This comes in a range of sizes from 6-16 and also comes in 5 other colours; camel, rust, white, lilac and red. (I'm desperate for the red one) 
Retailing at £23.98 but on offer for £11.99 and with the 15% off its £10.19
---
The next piece I chose was 'Black 'Couture' Lip Print Oversized T-shirt – Melissa'
Say it loud and add some slogan prints to your 'drobe this season in our Black 'Couture' Lip Print Oversized T-Shirt. Featuring a luxe oversized style with a lip print and slogan 'Couture' saying, this t-shirt will look on point. Team with a pair of cycling shorts and fresh trainers for the ultimate look.

Black
'Couture' Slogan
Lip Print
Oversized
Short Sleeve
T-Shirt
I am so in love with this t-shirt, now it's coming into winter I love to feel cosy and this t-shirt makes me feel just that. I like to just throw on an easy outfit sometimes and as you can tell I have paired it with Femme Luxe own Sand Cuffed Joggers. This is exactly what I expect to get out of an oversized shirt, it's not too oversized, perfect sizing and makes me feel good because I'm covered up. I have also paired it with some faux leather leggings. So again extremely versatile and something that I wouldn't have necessarily chosen beforehand. 
This also comes in white which I absolutely love so I will definitely be buying. In the black, they currently only have size XL which is a 14/16. 
Currently retailing at £15.98  but again on offer for £7.99 but with the 15% off it is £6.79
---
Lastly I chose 'Sand Cuffed Joggers – Lizzie'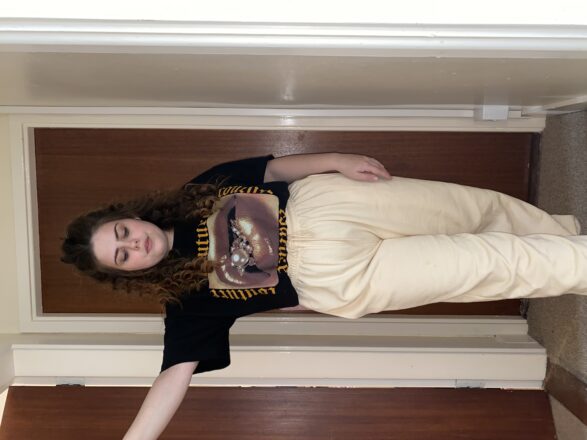 Keep it simple but chic this season in the Sand Cuffed Joggers. Featuring an elasticated waist with a hidden drawstring and a cuffed hem, these joggers are amaze with some chunky trainers and a lace bodysuit.
Now the day I am writing this we are into Lockdown #2, however, I do spend a lot of time at home with Phoebe so I thought I would go for something comfy, something I can wear every day and pop out for a walk if I need to and don't look too bad. These will come in extremely handy over the next coming weeks. These are extremely soft and comfortable I absolutely love them, they are very oversized a little bit more oversized than I was thinking so if you wanted a tighter fitting jogger I would definitely size down. Nevertheless, I really like them and I will be wearing them A LOT. 
These joggers come in 5 different colours; cream, sage, lilac, coral and white.
They come in sizes 6-14
Currently retailing for £27.98 on offer for £11.99 and with 15% it is £10.19
---
Overall I love all of these pieces including the trousers I just need to get a smaller size and it's not very often I have a haul where I love every piece. 
Check back soon for more hauls/clothing reviews! 
---
**disclaimer; I was sent these items in exchange for an honest review, all opinions are my own and have not been influenced in anyway.