As many of you know i have been in collaboration with Femme Luxe before, last time I chose 3 dresses. So this time I thought I would change it up a little and go with tops and jumpers, Now that the cold weather has settled in.
---
For those of you that do not know much about Femme Luxe here is a bit about them:
We are Femme Luxe. We are a current, classy and forward thinking online fashion brand. Clothing that will make you look no further when you need that next dress/outfit for a night out, day out, party, special occassion, any event or maybe just chillin' at home! We make sure you stand out in the right way, attracting the right attention, giving you that look of either Femme Fatal or a Luxury lady. We believe this is the new era in style, and have narrowed it down for you by selecting the best collections to suit your needs.

We aim to deliver the biggest trends at the most affordable prices, on a global scale, with new rockin' styles posted every week we are smashing prices globally. Visit our home page ticker time bomb on discounted collections.

Welcome to your new wardrobe.
---
When they asked if I would like to review another selection of clothes I jumped at the opportunity, I absolutely love FemmeLuxe and I think its such a fantastic website for affordable clothes. FemmeLuxe also quite often have some sort of offer or deal on so always make sure to keep an eye on that! as they are absolutely amazing. I am always looking to change things up in my wardrobe as I feel I have a very boring wardrobe and have also been told before that I dress like a 'mum' which isn't bad but I am currently not a mum so would like to change things up and change my style a little bit.
---
The first item of clothing I chose was 'White Vogue Printed Crop Top'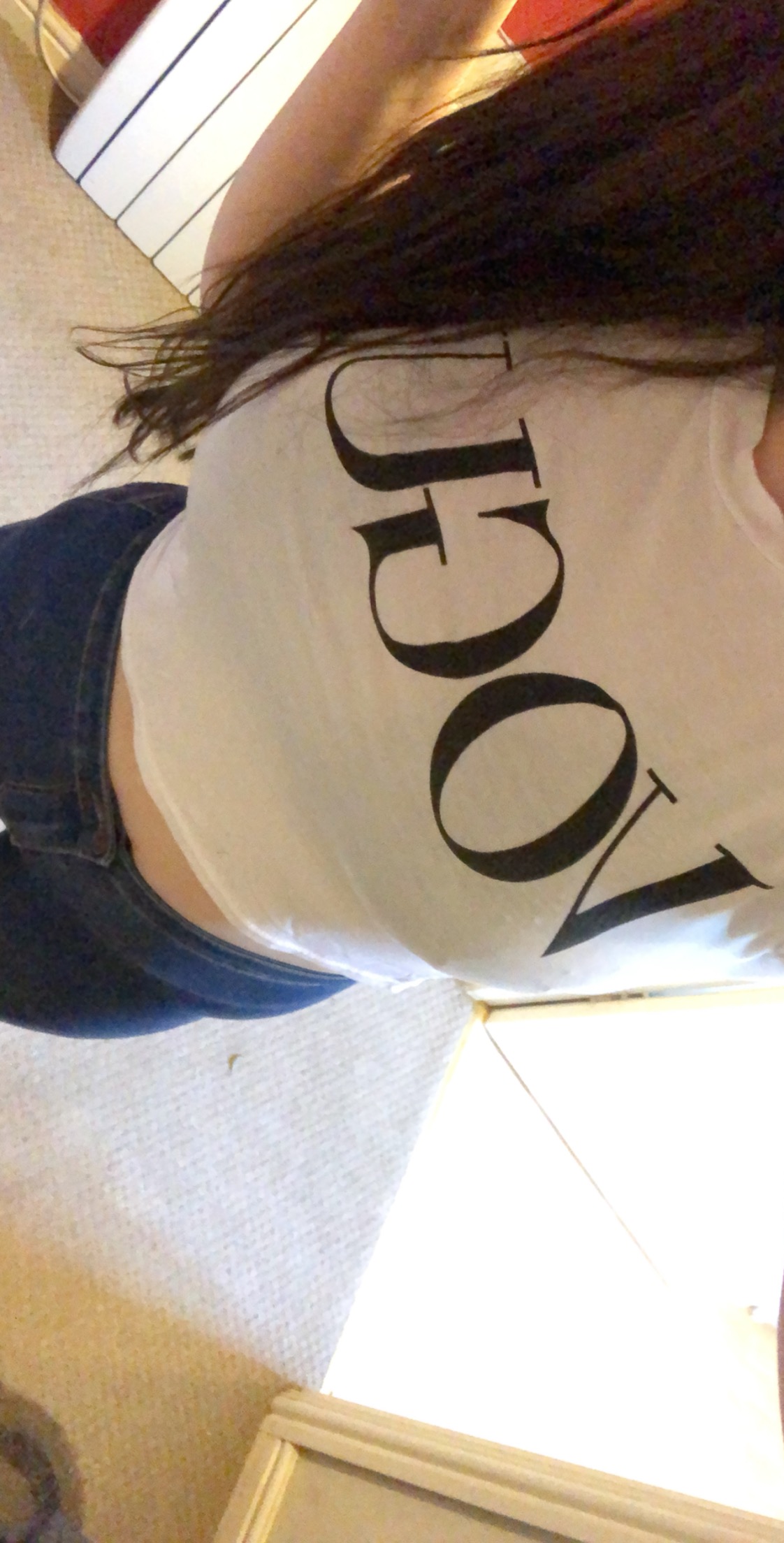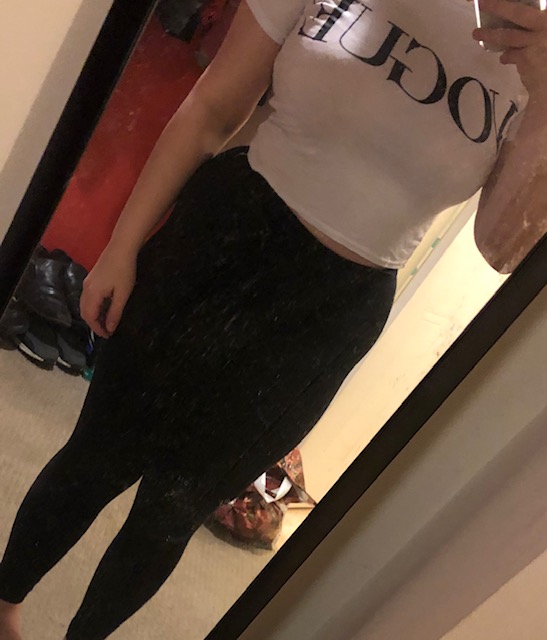 I have seen this top on their website for quite a while now and every time I look at it and think oh I love that, but then I doubt myself thinking it wouldn't suit me. So I decided to bite the bullet and go for it anyway. I'm not usually a lover of crop tops, but since being on my diet and losing a bit of weight I have started to wear crop tops a lot more often! I actually love the way this crop top fits and sits on my body and is definitely flattering. I did get a size up just to be on the safe side and it fits like a glove! This top also feels very well made, I'm quite funny with how some materials feel and sit but this one has met beyond my expectations. One thing I do love about this top is that it can be styled in different ways. You could dress it down with some jeans and a cardigan or you could wear it with high waisted jeans, shorts or even a skirt! This is now one of my staples in my wardrobe and I reach for it all of the time.
---
The second item I went for was the 'Grey Knitted Oversized Polo Neck Jumper'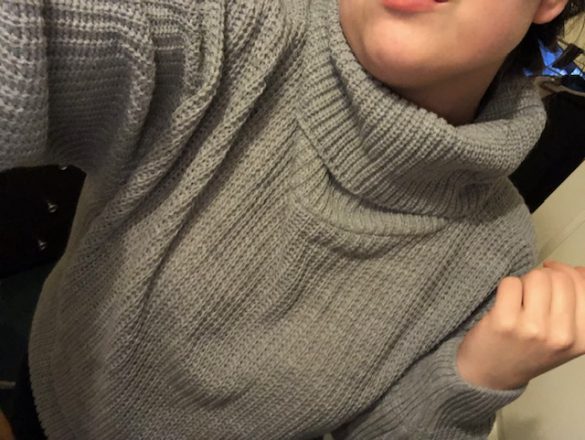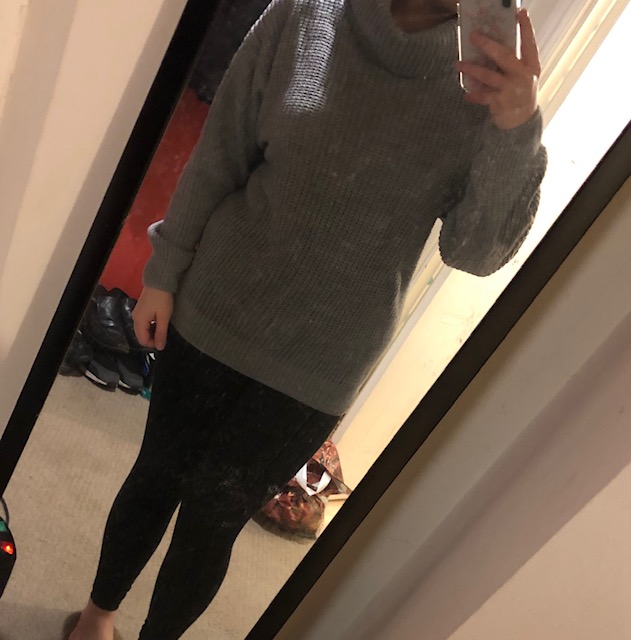 Take your style up a level this season with the must have Grey  Knitted Oversized Polo Neck Jumper . With the luxe Grey  colouring and must have soft knit, this essential oversized jumper is amazing for all occasions that may be coming your way this AW18. Team your affordable loose-fitting turtleneck up with some crop leggings and perspex heels for a classy and cosy autumn look. Alternatively wear with your jeans and trainers for an easy going day to day look.
I absolutely adore oversized jumpers. Especially in this weather, you just want to be snuggled up and warm and that's exactly how this jumper makes you feel. I personally would wear this jumper with skinny jeans and some boots. The polo neck isn't too close to your neck and actually has quite a stretchy feel to it so it hangs down a little bit, which I like as some jumpers can be quite tight and restricting which can be awfully uncomfortable at times. I do really love this jumper and it is really versatile which is an absolute bonus!
---
The third item is the 'Stone Knit Turtle Neck Bodycon Mini Dress'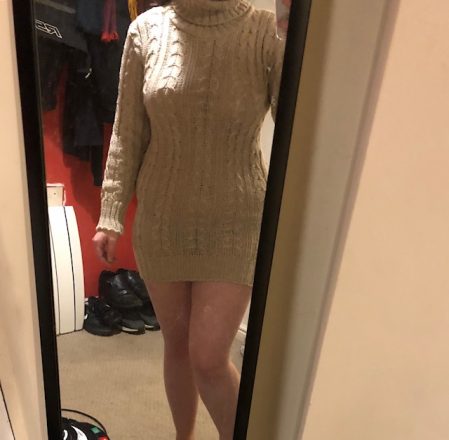 Wrap up this winter in the Stone Ribbed Knit Turtle Neck Bodycon Mini Dress, complete with turtle neck, rib fabric and tight silhouette. Pair with sock boots and a cute side pouch for casj cool vibes.
Jumper dresses are definitely the 'in' thing right now! Every time I go out I see someone with a jumper dress and knee high/thigh high boots. It's such a lovely casual look and every time I see someone with one I always think how nice it looks and I would like to start wearing stuff like that because it can also be quite dressy. It is definitely a continuing trend and hasn't seemed to go out of fashion yet. The reason I chose this dress sb because of how snuggly it looked, I thought yeah I could get away with wearing that with knee-high boots and you definitely could. The dress is a little small for me it fits everywhere but it is just the length so I would advise going up a size, but other than that this is a beautiful dress and perfect for this weather!
---
The last item I chose is 'Grey Fluffy Long Sleeve Crop Jumper'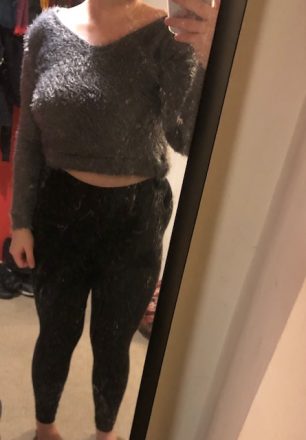 Keep your knitwear on point with this Grey Fluffy Long Sleeve Crop Jumper. Featuring a v neck front and long sleeves. This is perfect styled up or down girl!
I mean first of all who doesn't like fluffy jumpers? they are literally my favourite thing to wear in this weather, they are so casual and look so nice! You can style this jumper up or down. It is not extremely thick but also isn't too thin but enough to keep you covered and reasonably warm, I really like the way this looks and it feels absolutely amazing! the model wears it really nice as a casual look so I am excited to try and dress it up and see what I can come up with. I wear this jumper quite a lot and I am so glad I have it in my wardrobe!
---
-Sorry about the quality of the photos! I didn't realise how awful they looked when taking them.