I was absolutely over the moon when Katch Me got in touch with me asking if I would like to try some of their clothing in exchange for an HONEST review here on my blog.
I had a rummage through their website and I could not believe that I had never seen it before or come across it. 
Katch Me is an online fashion retailer who stocks a full range of on-trend and stylish clothing for great prices. 
One thing I've found with some online fashion retailers is that it looks absolutely great on the model and in the photos but what you receive is totally different to how you pictured it and I have also been in a situation where the clothes are awfully made, horrible material and all over the place sizing. With that being said I was very intrigued to see if Katchme clothing was worth what you pay and whether the sizing was correct and if the clothing was good material and well made. 
Nevertheless, I absolutely love doing fashion hauls and reviews and I'm extremely excited to be sharing this with you. 
---
After having a browse through their website I chose three items. The items I chose were Leopard print zip hoodie, purple hooded lounge set- Missy and PU high waisted leggings. 
---
White Leopard Print Teddy Zip Hoodie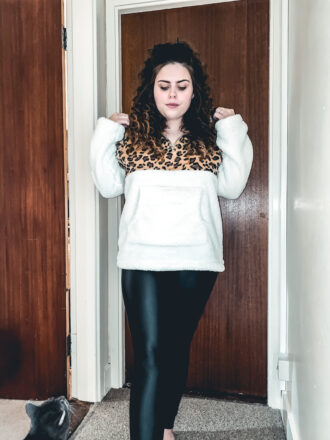 Transform your off duty days and step into a seriously cosy style with our White Leopard Print Teddy Jacket. This gorgeous white jumper comes in an all-over super soft teddy material. This oversized style helps to keep you looking cute but feeling super cosy! Rock this every day by teaming it with your fave high waist jeans and boots.
This really stood out to me as I ABSOLUTELY ADORE teddy items, as we are now coming into winter I end up trying to hibernate with my big baggy jumpers and cosy blankets. But not forgetting leopard print will always be my favourite print. I didn't know how I was going to pair this as it is quite out of my comfort zone but can I just say how cosy and warm this jumper is. It is not hugely thick but nevertheless, it will keep you warm. This jumper is also oversized which I love because as I've said before in the winter I really do love my baggy jumpers. I would have never picked this item before but this year I have decided to try new styles and try to dress for my new body. It's all about trial and error but I have fallen in love with this jumper. I am so glad that I ended up choosing this jumper and it is definitely going to be a staple in my wardrobe this winter. if you take a look at the photo Jasper also wanted to be in the picture haha!
This jumper comes in white and also a brown, at the moment they only have a size 12 in the white and size 8-14 in the brown. It is retailed at £39.99 but currently in the sale for £19.99. (more information about discounts etc at the bottom of this post)
5/5 stars
---
Faux leather high waisted leggings which are paired with the Jumper above.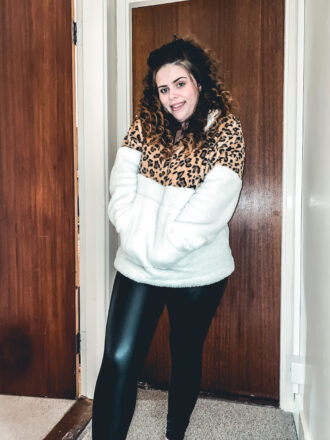 For a look that's on-trend and ultra-glam, our Khaki Faux Leather High Waisted Leggings are perfect! These figure-hugging faux leather pants come in a high waist, slim fit that looks flattering on every babe. The easy way to add some contrast to your outfits, these leggings can be styled with almost anything. Pair with a chunky knit jumper and boots for casual winter vibes or wear with a nice top and heels for an all-out glam look.
I have been looking for a pair of these for quite a while now, I was unsure whether they would suit me or not as I have never tried anything similar before. They are so easy to just pair with an oversized tee or even a jumper. Being a mum, this is something I look for often when buying clothing. I am always looking for something easy to just chuck on and something comfortable. These are very good and hiding every lump and bump and still flattering your body. I don't think I have ever liked a pair of leggings as much as I like these! They are not tight, easy to bend and move around in and just so comfortable! 
These also come in 5 different colours; black, khaki, tan, beige and burgundy. Retailed at £19.99 in the sale for £7.99 
5/5 stars.
---
Purple Hooded Lounge Set – Missy

Get you a Co-Ord that can do both! And all of it! Our Purple Hooded Lounge Set has it all! A slouchy, hooded crop top and cuffed joggers?! Ugh! All the key attributes that make a lounge set really work! Did someone say lazy day? Count us in!
Again I chose something completely out of my comfort zone. If you know me well you know I always go for Black or grey, that is all I ever wear but this time I thought I'd go for a nice pastel purple. 
I am really liking pastel colours at the moment although it does not fit in with winter. I've always said dark colours in winter and light colours in the summer but now I'm going against everything. 
My first thoughts upon opening the lounge set were okay this looks very big but beautiful, most of the time I think things look big and I try them on and they fit so I proceeded to try on. They fit but with a lot of room, I would definitely advise going a size down on this lounge set as it is extremely baggy, I'm not sure if this is how it is supposed to be or not, but I do really like this set. The material is so cosy and very well made and would definitely keep you warm. If you are looking for an oversized lounge set this is definitely one for you! 
This lounge set comes in sizes 6-14 retailed at £45.99 but currently on sale for £22.99 
Out of 5, I'd give this a 3 just down to the fact of how baggy it is (which could have been completely my fault)
---
Overall I am extremely pleased with every item I have received and I will be wearing all of them this winter.
Katch Me currently have 50% off their whole website + an extra 15% off with the code 'PAYDAY' please don't miss out as these clothes are AMAZING for the price.
---
---
*Disclaimer ; I was gifted these items in exchange for this post. All opinions are my own and not influenced in any way.